Reimagining West Yorkshire town centres
By Laura Brooks, Tanya Brown, Frank Darnley, Corinne Furness, Mussarat Rahman and Andrew Wilson
"We firmly believe that our high streets and town centres can have a better and more balanced future ahead of them… This will require a shift from the retail focused activities of high streets and town centres today to new uses and purposes which foster greater social interaction, community spirit and local identity and characteristics. With a properly planned strategic intervention…we can redefine our high streets and town centres and ensure their long-term sustainability for future generations to come."
Shifting a town's emphasis from retail to community requires bold creative visions, open-mindedness and a willingness to try something new. Now is the time for imaginative reinvention of these spaces with the public genuinely at the core of future development and planning. What do we want from our town centres?
As a starting point, we'd like to suggest asking this question:
What if our town centres were more like our parks?
West Yorkshire's parks are well-used and well-loved, attracting millions of visitors every year. Parks in Leeds alone are estimated to host around 45 million adult visits a year, with 91% of Leeds residents having visited a park in the preceding year and 50% visiting a park at least once a week in the summer months2.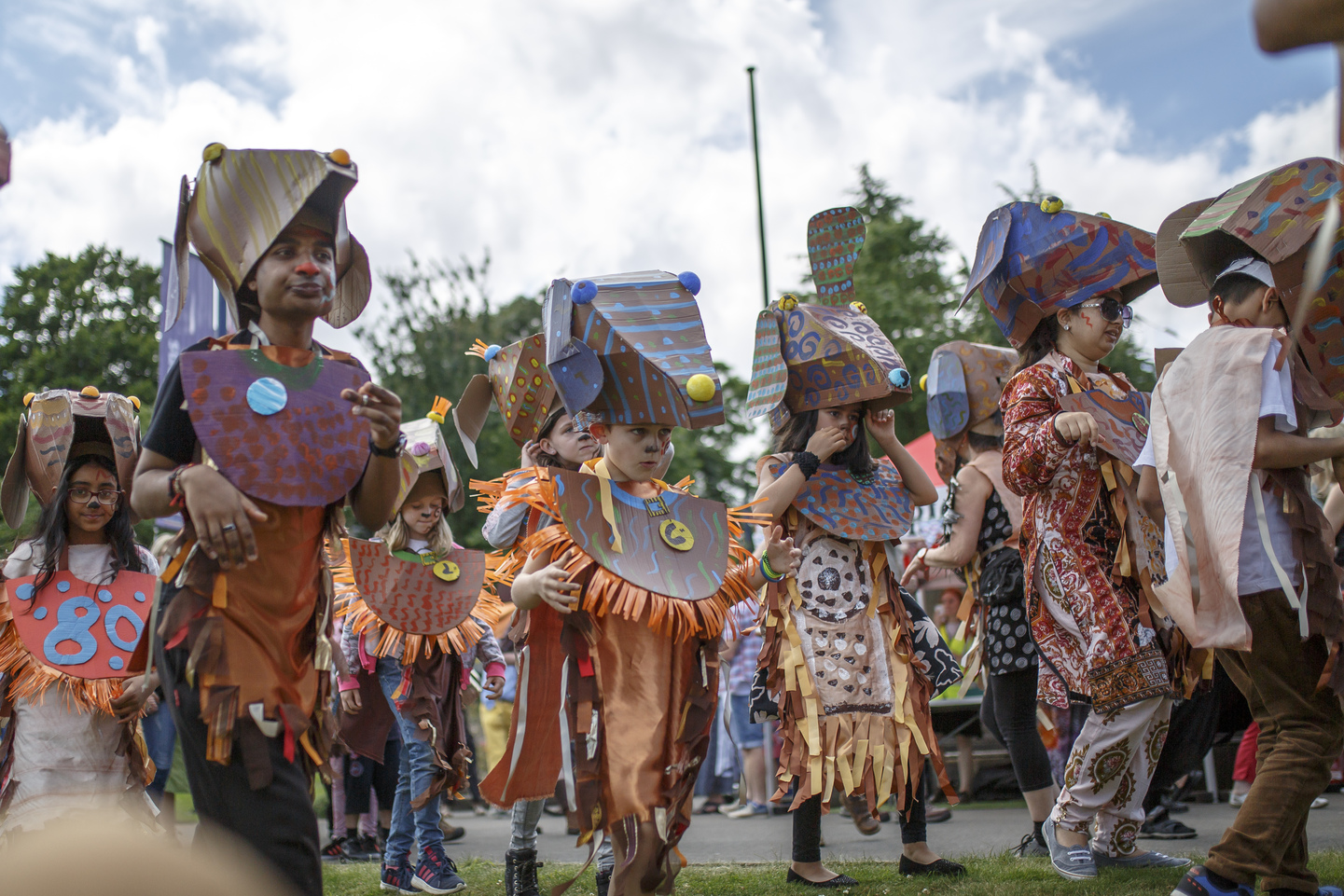 As open outdoor spaces shared by all, parks are a destination of choice in our leisure time and a place to escape to whenever we can. They attract people of all ages and demographics by providing flexible spaces that can be used by different people for different activities, according to the needs and desires of the people who go there.
Parks are free and freely accessible, they can be informal or semi-formal areas. Families can bring food and have a picnic with no obligation to spend money. They provide a focal point for entertainment, with bandstands and festivals of music, arts, and communities. Schools use parks for teaching children about nature and play.
They are somewhere to play football in, meet friends, eat your lunch, walk the dog, sunbathe, go jogging, go on a date. They provide places to stop, sit, linger and relax.
Parks and green spaces increase health and mental wellbeing by encouraging activity and movement. In a park you're not corralled into the role of consumer and can instead exist unencumbered by advertising and distraction, allowed to pause and think. They feel democratic and respectful of their visitors. In trusting us, we respond accordingly.
How can our town centres take on these characteristics, becoming spaces that welcome us and allow the freedom and autonomy we get from parks?
"We recommend that action is taken at local level to create visionary strategies for high streets and town centres which have the backing of the local community."
High streets and town centres in 2030, report of the House of Commons Housing, Communities and Local Government Committee
To flourish in the same way that our parks flourish, town centres need to provide opportunities for all of us to belong and to participate in what they are and what they will become. They will need to be flexible and able to evolve in an ever-changing and uncertain future.
In transforming our town centres, our key resources are people, buildings and the spaces in between.
We urge councils and the Mayor to work with individual people and small local groups that are already embedded in communities; to genuinely and meaningfully consider diverse views and to facilitate citizen-led dialogue to enable these contributions to define any planning process from the start. Local knowledge and initiative is invaluable and should be prioritised and recompensed in the same way consultants are budgeted for.
The process will need adequate time and finances for discussion and experimentation, so that a range of options can be considered, tried and tested to allow for some kind of consensus and understanding before moving forwards.
Every change should be temporary at first, with design, construction and completion happening in public space, as a method of finding out what works and building on that before committing large amounts of money.
The process will be different in every town, and each place will come up with its own ideas and preferences.
The following suggestions are intended only as examples of things that might be tried out cheaply and quickly:
Mobile market stalls free for community use

Mobile street furniture designed and made by local craftspeople

Relocating health and wellbeing services back into town centres

Cooking facilities, places for picnics and communal meals

Places to shelter from the rain

Public toilets

Access to water

Weekend family creativity hubs in empty shops

Free after-work sports and exercise events in empty spaces

A toy library of toys designed and made by local craftspeople

A town centre adventure playground

Community allotments on the roofs of buildings

Pedal powered shuttles for larger town centres

A bandstand

A workshop for repairing and remaking clothing and broken domestic items

Spaces for contemplation and mindfulness, of the kind produced by artist James Turrell at the Yorkshire Sculpture Park3
By taking stock of what we have and defining what we want, we have a chance of reviving our town centres, turning them into spaces that are genuinely beneficial and loved.
---
Laura Brooks
Laura Brooks has worked with everybody from Bradford University mentoring young people in a bereavement project, to co-programming Women of the World festival with the Southbank Centre. Now she's building the ambitious Bradford Fringe Festival, from nothing to the brightest new fringe festival in the UK.
Frank Darnley
I exhibited my own work in group exhibitions including at the Ferrens in Hull and the Bluecoat in Liverpool and was also commissioned by Bradford Festival, Mind the..Gap , Pilot, Skinning the Cat and IOU Theatre. 'Meeting Aliens' involved an interactive robotic sculpture developed with Bradford University and was my solo exhibition curated by Steve Manthorpe at Cartright Hall in 1999.This led to an MA at Huddersfield in Smart Design in 2005.
Corinne Furness
Corinne Furness is a researcher and theatre maker based in Leeds. Co-director of community theatre company Eager Spark, she has made work for empty shops, community spaces and rural touring as well as for theatre auditoriums. She is currently completing an AHRC funded PhD exploring professional-amateur collaboration in the subsidised theatre sector and regularly consults on working with artists in empty shops. www.corinnefurness.co.uk
Mussarat Rahman
Mussarat is an up and coming social innovator and cultural leader, developing innovative local and national programmes with community in mind. These have been developed from her own experiences, knowledge and working practices working hand in hand with community, She has been an active social change maker for the last 15 years running and developing new programmes continuously. Biasan, Intercultured Festival.
Andrew Wilson
I experiment with structures to facilitate collaboration and have been one of the co-founders and main organisers of para-lab (2017-) and Superposition (2013-2017), both collectives of artists and scientists; The Making Space, a cooperatively run shared workspace (2013-); Same Skies (2015-); and two co-operatives to develop software.
---
References