20 Minute neighbourhoods
By Irena Bauman, Ruth Gelletlie, Hugh Goulbourne, Neil Mckenna, Lucy Meredith, Mike Prior and Andrew Wilson
In West Yorkshire we urgently need to confront several major challenges. How do we reduce our carbon emissions and reverse the decline of our town centres? How can we tackle the increasing level of health inequalities and support people to live healthy, active lives?
Will the election of our Mayor make confronting these challenges easier?
The pandemic has had a profound impact on the way we live. It has changed the way many people work and accelerated changes in our commercial centres. It has exposed and exacerbated levels of health inequality across our communities to the extent that in a recent survey most people (81%) thought that, after the pandemic, the government should first and foremost prioritise the health and well-being of its citizens.1
The West Yorkshire mayor will not have control of a health budget, but will have powers to influence and shape many of the factors that determine health - including the social, economic and environmental conditions in which people live. These wider determinants of health include: income, education, access to green space and healthy food, the work people do and the homes they live in. These factors are the principal drivers of how healthy people are and addressing inequalities in socio-economic factors is a crucial part of reducing health inequalities.2 Measures that address these inequalities will simultaneously help tackle the climate emergency – what is good for our health is also good for our climate.
A key advantage of the new Mayoral Combined Authority is its joint governance arrangements for transport, skills, economic development and regeneration, which allow for strategic prioritisation across its area and integrated policy development.3
We ask that the Mayor puts improving health equity and tackling the climate emergency at the heart of a bold vision for West Yorkshire. This vision will need to be underpinned by a holistic spatial development strategy with housing and transport strategies aligned to deliver these outcomes. We recommend 20-minute neighbourhoods as a way of developing healthy, sustainable communities across the region.
20-minute neighbourhoods are places where it is easy for people to meet most of their everyday needs by a short, convenient and pleasant walk or cycle ride. Every 20-minute neighbourhood is different, but features that are common to most include: affordable housing, with a diverse mix of housing types for different life-stages; employment; parks and green spaces; good public transport connections and roads designed for cycling and walking; access to food retailers; early years and primary school education; health services; and facilities for sport and entertainment.
There will be many benefits for people living in 20-minute neighbourhoods. These include improved health, cleaner air, stronger local economies, and better resilience against climate change. Such "complete, compact and connected communities"4 should help reduce social isolation and increase civic participation and community cohesion.
The importance of 20-minute neighbourhoods is being recognised around the world, in places as diverse as Melbourne, Portland and Paris. West Yorkshire can join these pioneers. Indeed some communities, for example Slaithwaite (Kirklees), Chapel Allerton (Leeds) and Saltaire (Bradford) are already becoming 20-minute neighbourhoods through a combination of demographics, the existing built environment and community-led initiatives.
For everyone in West Yorkshire to enjoy the benefits of living in 20-minute neighbourhoods however most areas will need investment, and the new mayoral authority will be crucial in bringing together new powers and financial resources, along with playing a vital leadership role.
There will need to be a transparent framework for allocating resources and we suggest the following criteria for prioritising which areas will receive investment:
High prevalence of health inequalities

High proportion of residents in low paying jobs

Low levels of car ownership

High proportion of people travelling out of the area for work

Potential for better public transport connectivity

Existing green spaces

Good track record of public sector partnership working

Vacant land with the potential to increase population density with mixed tenure housing

Vacant land with the potential to introduce typologies of buildings that would lend themselves to local employment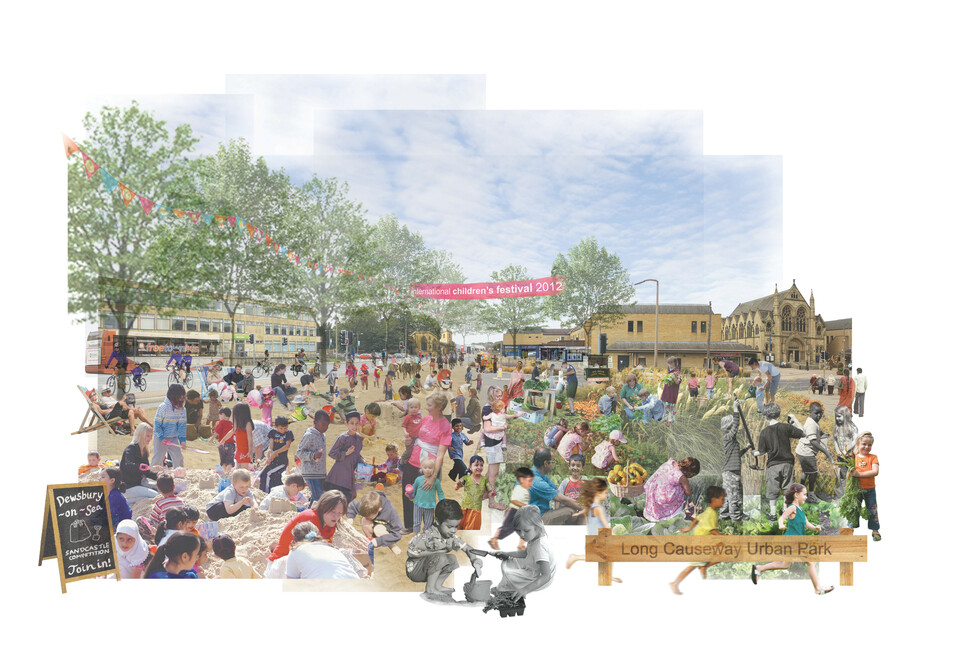 Based on previous research, we know such areas are often found on the rims of town or city centres, for example Richmond Hill in Leeds. While these neighbourhoods might be characterised as deprived on some measures, they also have notable strengths in their social networks, under-utilised space and under-valued enterprise.
Once suitable neighbourhoods across West Yorkshire have been identified, we suggest the Mayor champions the following approach:
Use asset based community development as a starting point5.

Make small interventions in the built environment at first as "stepping stones" to develop community participation, test what works, and build on that.

Improve walking and cycling infrastructure and public transport connectivity.

Work with housing associations (and especially People Powered Homes, the community-led housing support network for West Yorkshire ) to provide new housing.

Audit the employment opportunities within the area, and focus bespoke adult skills initiatives linking local residents with these jobs.

Work on introducing new building types into the area that lend themselves to local employment, and link this to adult skills initiatives, retraining opportunities, and support for start-up businesses.

Explore the potential for healthier food provision, including locally grown produce.

Examine the need for a credit union to provide a neighbourhood banking option.
We believe that the new Mayoral powers provide an unprecedented opportunity to develop and implement a bold vision to respond to the climate emergency while achieving greater health equity. 20-minute neighbourhoods are an ideal vehicle to support delivery of this vision and we look forward to working with the Mayor to develop these ideas further.
---
Irena Bauman
Irena Bauman is an architect and urban designer the funder of Bauman Lyons Architects and a fabrication company MassBespoke in Leeds. She is currently working on regeneration strategies for city and town centres in Yorkshire. Awarded the Royal Commission 1851 Fellowship in 2019 she developed business models for community owned Built InCommon construction workshops and a house building procurement process that trades private profits for collective ownership, circular economy and social value.
Ruth Gelletlie
Ruth Gelletlie is a retired public health doctor living in Leeds. She contributes to groups seeking to "build back fairer" and tackle health inequalities and the climate emergency, with a particular focus on healthy place making, transport and sustainable housing.
Neil McKenna
Neil is a PhD researcher at the University of Leeds. He works with community-led housing groups in Leeds and West Yorkshire, undertaking action research to support better place-making, democracy and social justice in housing. Neil is also an urban Planner with Tibbalds Planning & Urban Design and a chartered member of the Royal Town Planning Institute (RTPI).
Lucy Meredith
Lucy Meredith is part of the Leeds Community Homes team, she is the organisation's lead on PR, marketing, social media and events. She also works for Zero Carbon Yorkshire to support the growth of sustainable and eco-friendly housing. Lucy is co-director of Yorkshire Life Aquatic, an eco-arts and wellbeing organisation.
Mike Prior
Mike helped shape the first local network within the global movement www.culturedeclares.org - taking action in response to the climate and ecological emergency. Recent collaborative actions include a pop-up community hub, and a withNature2020 public artwork - the 400m2 Kirklees Cuckoo. Mike is also active in the Asylum Seeker charity, www.huddsdash.org.
Andrew Wilson
I experiment with structures to facilitate collaboration and have been one of the co-founders and main organisers of para-lab (2017-) and Superposition (2013-2017), both collectives of artists and scientists; The Making Space, a cooperatively run shared workspace (2013-); Same Skies (2015-); and two co-operatives to develop software.
---
References