Planning and designing decent homes and liveable places for all in West Yorkshire
By Rochyne Delaney Mcnulty, Huw Jones, Neil Mckenna, Phoebe Nickols, Jonathan Orlek and Bob Wolfe
"We are at a turning point: reject the fantasy politics of constant growth and a high carbon unequal life, and embrace a new paradigm of a zero carbon, socially just and liveable West Yorkshire."1
The Mayor must get excited about changing the ground rules to embed and sustain a different approach to planning and designing places that doesn't narrowly focus on growth but thinks about: WHAT we value about West Yorkshire; HOW we build and refurbish to improve the suitability, quality, security and affordability of our housing; and HOW we improve the common experience of the street, making our neighbourhoods fulfilling and liveable. We need a holistic and participative approach to addressing these issues, with our villages, towns and cities working together to develop devolved power to act.
Telling a new story together
"The process you take to get to the future determines the future you will get."2 Without bold and imaginative approaches we will continue to reinforce problems such as housing dominated by roads, detached from local services and lacking public transport, with declining public ownership and community control.
The Mayor should co-produce all strategy and policy, daring to imagine something different to our current situation. They should bring creative ambition, coordinating strategically (e.g. climate change response and social infrastructure provision) but always ensuring there is a local component by encouraging experimentation and play in small scale public and civic action (e.g. coops, self build, small builders, involving artists) to affect transformative and just change. The Mayor should facilitate on-going collaboration through citizen assembly, partnering with anchor institutions and securing resources to bring in marginalised voices. The Mayor should listen to, connect with, and understand in granular detail the inspiring things already happening such as RootedIn (Bradford)3, Pride of Place Leeds4, Leeds Eastside5, whilst drawing from inspiring examples globally.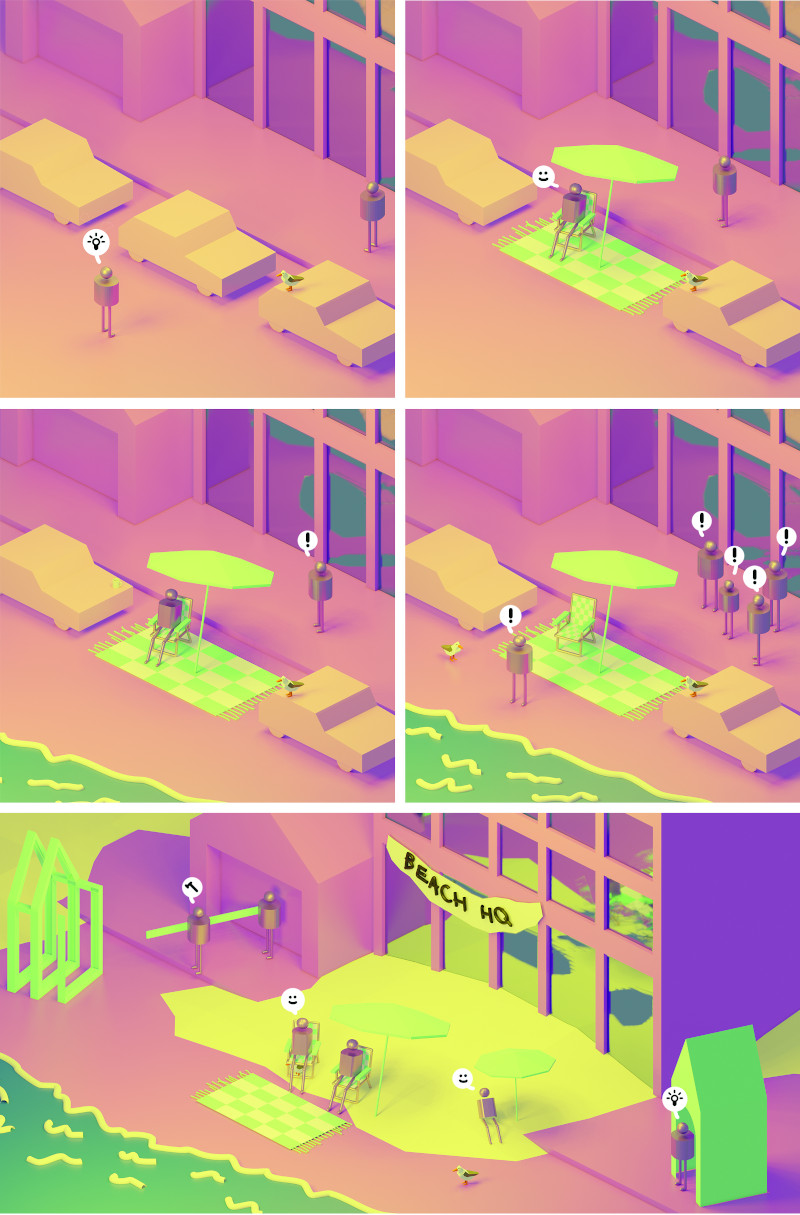 This is policy making as collective learning – demystifying housing and planning processes for decision makers, professionals and citizens alike. Planning, designing, building and managing where we live should not be a technical or professional exercise, imposed on people, but instead something that we all understand and shape for collective ownership, responsibility and benefit.
Power to councils and communities
The ability of public authorities to proactively plan and shape the environment has been weakened. If we questioned where, how and of what quality we are creating housing, there are limited cases where we would be satisfied.
The Mayor needs to lead on increasing public and community control over land, coordinating infrastructure and neighbourhood improvements, aiming to generate community wealth, working towards social justice and pursuing zero-carbon placemaking.
The Mayor should establish a new regional housing system, curating and nurturing a complex range of approaches. Quality should be demanded through public and community control, with commitment to a circular economy in procurement (e.g. 'The Preston Model'6). We need to support new local and regional building and supply chains to refurbish, retrofit and build new homes (e.g. Built inCommon7). We should form public/civic partnerships with established community organisations that understand local needs (e.g. New Wortley Community Association8 or East Street Arts9) and support new community housing groups. We need investment in services such as Turning Lives Around and Horton Housing10 to support people to access the housing they need and want, living independently and improving their physical, mental and financial health and wellbeing.
There are opportunities to 'make the shift' and commit to housing as a basic need11; learn from Norwich as a local authority championing social housing of the highest quality and environmental performance12; and partner with People Powered Homes to support pioneering community-led housing groups and organisations across West Yorkshire13.
Access to a decent and affordable home
Our market housing system doesn't meet the needs, requirements and aspirations of all parts of the community.
We need a new approach to affordable housing, giving councils and communities a central role in direct delivery of new housing, along with council/community buy-backs to create affordable housing from existing stock. We need a diversity and flexibility of tenures, including affordable rents, shared housing and affordable home ownership (e.g. LILAC14). We need to avoid speculative development and think about actual needs of people, not generalised numbers and assumptions. This requires an understanding and challenging of injustices across gender, sexual orientation, physical ability, age, race, ethnicity, migratory status and to meet people's evolving living and housing preferences. The Mayor can learn from 'Invisible Women'15, or work by Claude Hendrickson to empower marginalised communities to house themselves, gaining skills and jobs in the process.16
We need to stop focussing on growth and new housing numbers and instead efficiently use existing housing, supporting refurbishment, remodelling and zero-carbon retrofitting. As highlighted by ACORN Leeds17, there needs to be regulation and enforcement of standards in the private rental sector, removing rogue landlords.
We need to think about housing as a place-making process led by councils and communities, investing in existing places, reanimating them, thinking about green space first, buildings second, prioritising walking/cycling and not major roads. Housing needs to be thought about in relation to improved local services, businesses, social/cultural activities, schools. The aim must be to ensure affordable, secure, high quality, and fulfilling housing in liveable neighbourhoods.
What the Mayor can do
Formulate policy and strategy differently – co-produce, play and experiment to act together, working with the full diversity of people and wealth of inspiring examples locally and globally.
Convene a conversation with key representatives reflecting local government, civil, business and academic interests to collectively establish a coherent and radical new vision for housing and places.18
Set up a 'Place Commission' to map and understand existing assets, and ensure the public purpose of Mayoral Development Corporations/Areas is to generate social value, a circular economy, provide council and community-led housing, services, cultural and arts uses.
Get strategic planning powers, then co-produce a regional plan bringing imagination to think beyond constraints and to coordinate land, housing, social infrastructure, transport, energy, nature and biodiversity, food production, waste processing.
This piece has been shaped by contributions from public discussion events titled 'Decent Homes and Liveable Places' as well as an on-going series of 'West Yorkshire Walks'.
---
Huw Jones
Huw has worked in housing for over 40 years and has a wide range of experience in housing strategy and research and in coordination of housing and social partnerships. Huw's professional interest is in the revision of approaches to the provision, refurbishment and use of housing and support for those who live in it.
Neil McKenna
Neil is a PhD researcher at the University of Leeds. He works with community-led housing groups in Leeds and West Yorkshire, undertaking action research to support better place-making, democracy and social justice in housing. Neil is also an urban Planner with Tibbalds Planning & Urban Design and a chartered member of the Royal Town Planning Institute (RTPI).
Rochyne Delaney McNulty
Rochyne is an artist, maker, producer and film maker based in Leeds and Bradford, working with Same Skies to help design and facilitate civic engagement sessions, in real and virtual space. She is keen to develop the human nature of politics with Same Skies and increase engagement with a view to real change in local communities.
Phoebe Nickols
Phoebe is an Architect, illustrator and 3D designer based in Leeds. She is passionate about design and believes good quality design should be for everyone, not just the rich. Phoebe is driven to disrupt the systems that we currently live in. FtT.
Jonathan Orlek
Jonathan is an Associate Lecturer in architecture at Sheffield Hallam University and a director of Studio Polpo, a social enterprise architecture practice. Jonathan has examined the future of UK high streets through design research: this includes 'High Street of Exchanges', an immersive installation by Studio Polpo for the British Pavilion at the Venice Architecture Biennale 2021.
Bob Wolfe
Bob is a chartered member of the Royal Town Planning Institute (RTPI). Bob retired from commercial planning practice in 2012, having run a planning consultancy for 20 years. He was Honorary Regional Secretary of RTPI Yorkshire from 2012 until 2019 when, amongst other things, he then led on the inception and development of the Great North Plan, and subsequent "Ambitions for The North" report.
---
References