Amongst the struggles and massive inequality, there is loads of great stuff that really needs shouting about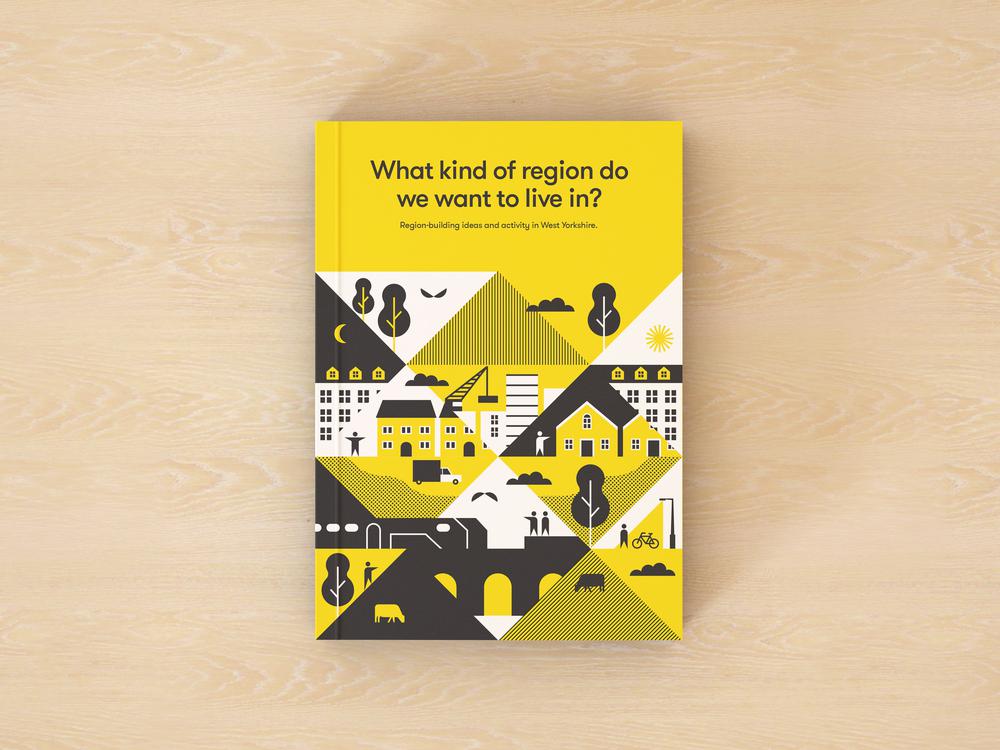 When we launched our collaborative book of hopeful ideas for Regional Democracy from West Yorkshire, we wanted to promote debate. If you haven't yet downloaded your free PDF, you can do so here.
Thank you to Alice Bradshaw  who provided the thoughtful response below. She originally presented this at our book launch event at the Book Corner in Halifax's Piece Hall on Tuesday 11th June 2019. What do you think? Do you agree with Alice?
---
I'm grateful for being invited to respond to the idea of regional democracy, thank you. My response comes from my arts and cultural professional background and my experience of living and working in Yorkshire for the past twelve years as an artist, curator and writer. I'm responding to the ideas articulated in the text "What do we mean by regional democracy" but kind of backwards as they read as I want to first talk about challenging London's hegemony, then radical subsidiarity and finally building a region.
So firstly the inequalities that present themselves in a London hegemony and how we might challenge that to begin progressive change towards equality. One thing to note is that everywhere in the UK there's worsening inequality and the situation in many places including London is really grim. But it is the fair distribution of limited resources and who has the say over how resources are distributed in each region that we are talking about here I think.
In 2017 the Institute for Public Policy Research North found that for the north to get the same Arts Council England funding per head as London it would need £691 million more in the 2018-2022 funding round. Arts Council England have improved their funding ratio of London versus outside London but still in the current 2018-2022 funding round, London receives 39.7% of Arts Council money when there is only 14.6% of the population of England living there. The north receives proportionally less arts funding per capita and has consistently done so all my professional life and before that too. This inequality is not exclusive to the arts but as previously mentioned this is my field and what I know best.
An example of how this operates: I subscribe to two contemporary arts listings services. One is London based and one is Leeds based. The London based newsletter is for UK listings but 90-100% of weekly listings are in London. The Leeds based newsletter is around 20-30% London based which is more in line with the population and funding. On challenging the London based one directly their response was to blame their algorithm and to say it is not intentional. This is one point that the piece in this book draws attention to: it's not intentionally vindictive. It's just the systems are massively biased towards supporting London. And it's also worth noting that Northerners are not anti-London just as Londoners are not anti-North. Everyone is struggling but the statistics demonstrate the North is struggling much more and has done for a long time.
Even within Yorkshire, and more specifically West Yorkshire, the funding has a regional Leeds hegemony which brings the same kind of problems but on a regional basis rather than national. The point made in this publication that power and agency needs to be on a town and community basis level really resonates. The North and Yorkshire, and specifically West Yorkshire and Halifax, have been discriminated against for a very long time so perhaps a positive discrimination in our favour is required akin to the City of Culture injections of funding that benefits major cities. Outposts of Culture? This regional democracy text in this publication is pretty utopian so I think my response should follow suit. More realistically though, an equal arts funding per capita would be what we should be aiming for and expecting really.
Equal funding per capita leads us onto radical subsidiarity and governance being at neighbourhood level. Just imagine if that arts council funding per capita was given to each individual to pay for an arts and cultural service they want and need: If we really individualised that process. Perhaps we should have a culture allowance? The providers pitch directly to the public instead of the middle people and in the process we can reduce the administration costs of allocating funds. Read a utopian vision, get a utopian response.
However this individualised approach is missing the vital element of community that the Building a Region text addresses. This is such a necessary component in my view. For everyone to have a voice we need to bring decision making processes into the places like the markets and equivocal public spaces where some of the participatory workshops for this project manifested. Open spaces and open dialogue are how progressive change is going to happen. The published text talks about bringing the conversations and decision making out of the town halls to decentralise power and agency and this, in art practice is very much social art practice or participatory art. Art that is presented in galleries and museums, especially those that are pay-to-enter are only communicating to those that can literally afford to pay in and value that experience enough to pay for it. Art that is presented in public spaces such as the markets, parks, town squares, transport interchanges and schools where a true cross section of society traverse are the more democratic spaces where open dialogue can take place.
Schools and education is the pivotal point I'll end on. Our education systems are the crux of a progressive and democratic society, I'm convinced of this. All while we're educated just enough to believe in what we're taught but not educated enough to question it, we're never going to progress or have anything resembling democracy. Our school systems are as broken as the rest of society but the impact is much more significant. We cannot learn this critical component of conscientisation through mainstream schooling and universities that are inaccessibly elitist and reduced to economic impact indicators. Where do we learn it from though? It's not going to be from the London hegemony. It's going to be through radical subsidiarisation of empowering each other on a local level. If there's any agency left for the cohabitants of the North it's going to be centred on helping each other out, educating and platforming each other. Events like this and shameless plug: events like Art Lab at Dean Clough that I coordinate showcasing local and regional artists, encouraging critical dialogue as a free and open monthly event. Stuff like this is happening across Yorkshire, and yes in London too, but the local and regional grassroots activity really does need an effective infrastructure to communicate and engage the very people it's about and for. What's effective is word of mouth telling all your family, friend and colleagues about the great stuff you know about. There's loads of great stuff in amongst the struggles and massive inequality and this really needs shouting about. This is how I think region building could help make cultural regional democracy on a micro level. The simple act of platforming each other and especially the marginalised is the strategy we could each employ.
Alice Bradshaw lives in Halifax.
This is a transcription of the main points from the "How do we create decent homes and liveable places for all in West Yorkshire?" online …
---
Community Led Housing (CLH) is a fantastic way that people are creating the homes that their communities need.
Around West Yorkshire there are groups planning …
---
The Labour Party's narrow victory by 323 votes in the Batley and Spen by-election is impressive in the circumstances of the contest and provides …