#StopTheSCANdal campaign: Mobilising Against Police Use of Biometric Fingerprint and Facial Recognition Technology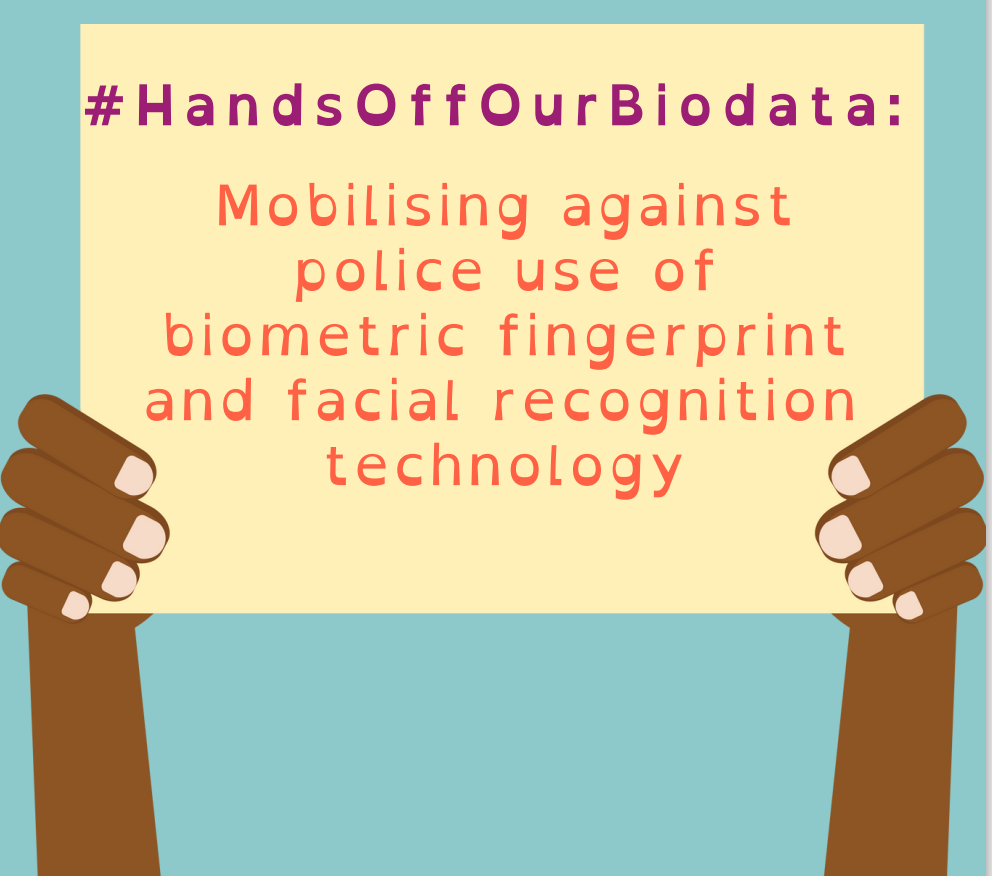 The Racial Justice Network and Yorkshire Resists have released a brand new report on the increased use of the Biometric Services Gateway (mobile fingerprinting) by police forces across the UK. We analyse the latest data obtained through Freedom of Information (FOI) requests from April 2020 to December 2021.
The report's title is: Mobilising Against Police Use of Biometric Fingerprint and Facial Recognition Technology.
Mobile fingerprinting devices allow police officers to scan, on the spot, a person's fingerprint against the IDENT1 criminal record database and the Home Office IABS (Immigration and Asylum Biometric Service) database, without taking the individual into custody, through a portal called the Biometric Services Gateway. A match may result in an arrest, contact with the Home Office or even detention.
Read on to find out more about our campaign and what you can do to help.
---
The Racial Justice Network (RJN) is an anti-racist charity based in West Yorkshire. RJN brings together groups, organisations and individuals from across the West Yorkshire region (and beyond) to proactively promote racial justice and address colonial legacies. Our organisation aims to raise awareness about, and mobilise around, racial inequality and injustice by listening and working with disempowered communities, taking positive action for justice and solidarity.
Yorkshire Resists is a network of organisations and individuals working to resist the Hostile Environment across Yorkshire. Together we launched the #StopTheSCANdal campaign to fight against the implementation of biometric fingerprint scanners introduced to police forces across England and Wales.
We have sought to warn against the multiple dangers embedded in this technology. High numbers of scans are made against the Home Office database, and hostile environment policies creep onto street corners. As a result, communities already facing multiple intersecting oppressions face further harassment and traumatisation, and feel increasingly unsafe. Many are unable to seek help when they have been a victim of, or witness, to a crime, for example, knowing a fingerprint could be turned against them. Much of this has been documented in our previous report on public opinion of the Biometric Services Gateway, as well in RJN's report on Hate Crime.
We also see more discriminatory "stop and search" style policing strategies. A technology that relies on an officer's discretion, coupled with endemic institutional racism that targets low-level infractions within over-policed communities, is a recipe for disaster. This is clearly shown by the key findings of our latest report, which revealed that Black people are 4 times more likely to be 'stopped and scanned' than white person, and Asian people 2 times more likely. The fact that the majority of forces did not provide any ethnicity data at all is another, if not more revealing, concern. Our latest report also discusses the new Operator Initiated Facial Recognition app and its use on minors. We are deeply concerned that South Wales are piloting more facial recognition technology, especially considering a 2020 Court ruling that the force had contravened privacy rights with facial recognition cameras.
If nothing is done, technologies like this will continue to creep up without consultation, and ethical reviews will continue to be carried out behind closed doors. We need the public to be informed on these developments, and we need people to stand in solidarity with us when we say this has no place in our communities.
We invite you to join us in our renewed commitment to eliminating racial injustice.
One of the best ways you can help us, right now is crucially by writing to your MP. You can use the template on Stop the Scan's website to make our voices heard. Downloading our report will help you learn about more of our key findings and how these may affect your area. Finally, sharing the below Tweet will help get the word out to your own networks and, hopefully, beyond!
Download the PDF report here.
Write to your MP here.
Retweet here.
Devolution. City Deals. Northern Powerhouse. What does this even mean to the average person on the street? Devolution probably reminds most people of Charles Darwin …
---
In May 2021 West Yorkshire is getting a mayor, a role similar to Andy Burnham in Greater Manchester among others.
There will be an election …
---
From the very beginning, Same Skies has been about building Regional Democracy up from the good stuff around us here. We are our own region …