Letter To Our Future Mayors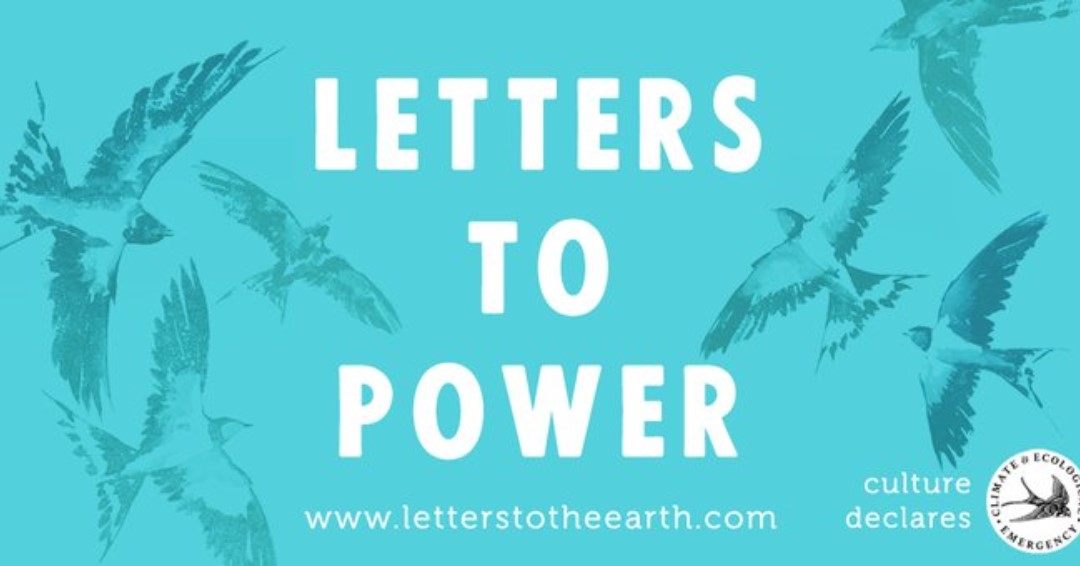 This is our contribution to an initiative called "Letters to Power" organised by Culture Declares Emergency.
Their call for participation says: "On the day that the UK parliament resits after summer recess and UK Rebellion begins, Letters to the Earth invites your creative response to the current emergencies."
The power that we're addressing our letter to is the future mayor, or successive mayors, of West Yorkshire.
Thanks to Mike Prior, who organised the climate emergency hub in Huddersfield last year, and took part in the previous "Letters to the Earth" edition, for drafting our letter.
More from Culture Declares Emergency about Letters to Power.
---

Seven Generation Stewardship
"You [Iroquois leader] shall now become a mentor of the people of the Five Nations. The thickness of your skin shall be seven spans - which is to say that you shall be proof against anger, offensive actions and criticism. ... Look and listen for the welfare of the whole people and have always in view not only the present but also the coming generations, even those whose faces are yet beneath the surface of the ground -- the unborn of the future Nation." 1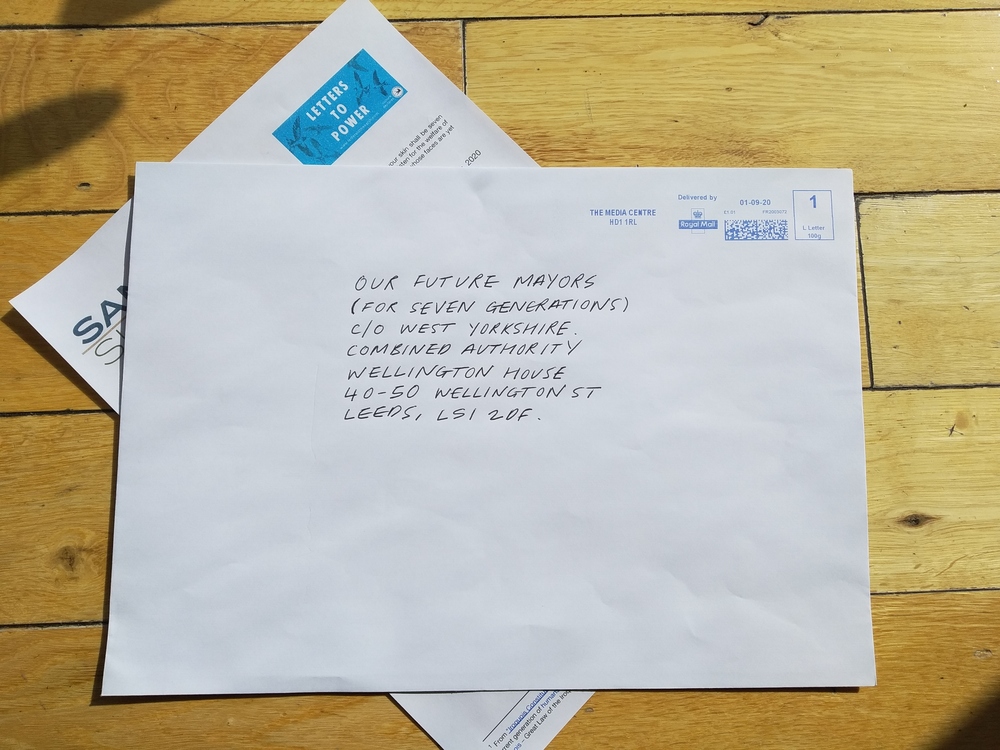 Dear future West Yorkshire Mayor,
We share the same skies, and live in the same timescales. But we don't all share the same sense of urgency and importance regarding the risks we face; nor do these risks impact all of us in equal measure.
We urge you and your colleagues to become mentors rather than heroic leaders. To lift your eyes to the horizon and beyond, to see the future as it will be and as it could be. To see the truth about the climate breakdown and species extinction well underway, but more importantly to imagine a world which is life enhancing for all species, and worthy of our future generations.
A post-carbon West Yorkshire where…
…our settlements are climate safe and resilient, with urban nature integral to their designs.
…all civic systems - such as housing and transport - have been redesigned within ecological limits.
…we all breathe clean air and access affordable, locally produced clean energies, water, & food.
…streetscapes and transport infrastructures are designed for people not cars.
…wealth is circulated locally, through regionally owned businesses, anchor institutions and co-operatives
…wellbeing, stewardship, and steady state economy replace GDP growth as indicators of success.
…there is fair and equal participation by all who currently live here, no matter where they were born2
…we value a new kind of civic politics, with participative and deliberative democracy at it heart.
We share the same skies. Humans feel human through affirmation from other humans and that is achieved through belonging, participating and sharing with others3
Please work to make this vision reality, for today's citizens and 'the unborn of the future [Region]'.
With Best Wishes,
on behalf of
Ed Carlisle
Paul Chatterton
Tiffany Holloman
Ian Martin
Neil McKenna
Rochyne Delaney McNulty
Mike Prior
Jack Simpson
Ryan Swift
Sydney Thornbury (CEO, The Art House)
Andrew Wilson
---
From "Iroquois Constitution". www.indigenouspeople.net. Retrieved 2019-01-11 Seven generation stewardship is a concept that urges the current generation of humans to live and work for the benefit of the seventh generation into the future. It is believed to have originated[ with the Iroquois – Great Law of the Iroquois – which holds it appropriate to think seven generations ahead (about 140 years into the future) and decide whether the decisions they make today would benefit their children seven generations into the future ↩

Dr Sophia Price, The Imaginings of West Yorkshire Futures' (from What kind of region do we want to live in? published 2019) ↩

Peninah Wangari-Jones 'Could we put 'Ubuntu' at the heart of better mental health for all in West Yorkshire' (from What kind of region…) ↩
Do we get a fair say in the decisions that affect us?
A few thoughts from around West Yorkshire.
Come and tell us what you …
---
This is a transcription of the main points from the "How do we create decent homes and liveable places for all in West Yorkshire?" online …
---
We joined Jayne and Josiah from Rooted In for a walk around Allerton and Lower Grange in Bradford to discuss the work they do.
Rooted …